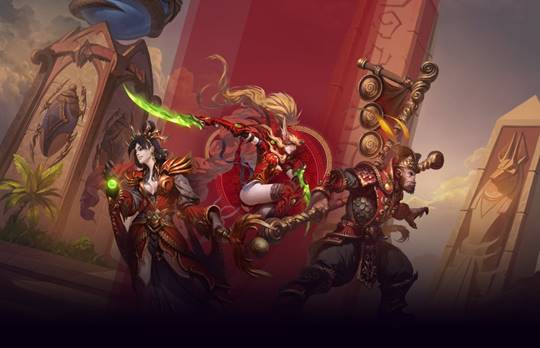 Bei Heroes of the Storm gibt es wieder neue Inhalte mit dem neusten Patch, darunter die neue Heldin Valeera und das Mondfest!
Neue Heldin: Valeera
Die Gladiatorin Valeera Sanguinar diente eine Weile lang treu in den Reihen von Varian Wrynns Leibwache. Nun hat sie sich dem geheimen Schurkenorden der Ungekrönten angeschlossen und setzt ihre schattenhaften Fähigkeiten in ihrem Kampf gegen die Brennende Legion ein.
Schurken sind Meister darin, flink Angriff auf Angriff folgen zu lassen, und Valeera macht ihrer Zunft alle Ehre. Sowohl im getarnten Zustand als auch wenn sie sichtbar ist, sammelt diese Nahkampfassassine Combopunkte, die sie verbrauchen kann, um ihre Gegner auszuweiden. Zu ihren vielen Fähigkeiten zählen:
Finsterer Stoß – Macht einen Satz vorwärts, der Gegnern in einer geraden Linie Schaden zufügt und einen Combopunkt gewährt.
Klingenwirbel – Verursacht in Valeeras Nähe Flächenschaden und gewährt einen Combopunkt pro getroffenem gegnerischem Helden.
Ausweiden – Verbraucht alle Combopunkte, um einen Gegner auszuweiden. Je mehr Combopunkte eingesetzt werden, desto höher ist der Schaden.
Das deutsche Factsheet zu Valeera finden Sie ebenfalls auf dem Presseserver. Sie können auch Inhalte (Screenshots) vom Presseserver von Blizzard herunterladen.
Besonderes Ereignis: Mondfest
Das Mondfest kehrt von heute bis zum 14. Februar in den Nexus zurück! Die Helden des Nexus feiern das neue Jahr mit passenden Skins, Reittieren, Sparpaketen und Ereignisquests, und Ihr seid zu den Feierlichkeiten eingeladen. Spieler können für besondere Belohnungen am Hahnenrennen teilnehmen – für den einmaligen Abschluss gibt es 200 Gold, für 25 Mal den reitbaren Mondfesthahn mitsamt einem passenden Porträt.
Details zum Mondfest 2017 findet Ihr hier.
Werfet auch einen Blick auf das an StarCraft angelehnte Heldenchaos dieser Woche, Heroes of the Stars, und den neuen Testmodus Mehrspieler-Sandbox, in dem Spieler eigene Einstellungen festlegen und ausprobieren können, um ihre Fähigkeiten zu verbessern.
Ein Video mit einigen dieser neuen Spielinhalte gibt es hier für euch zu sehen:
Mehr PC, Mac- und Konsolen Spiele-News