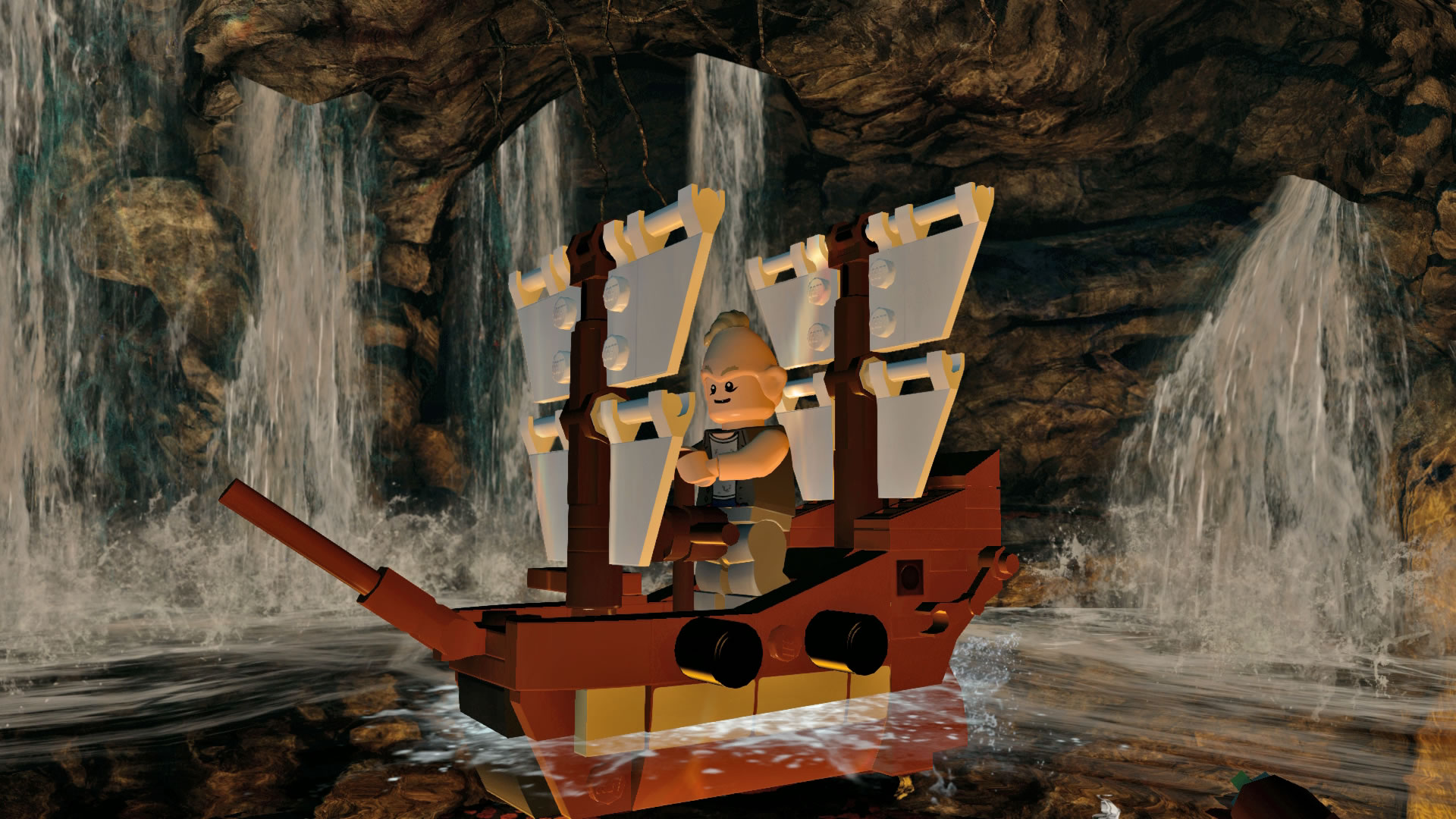 Warner Bros. Interactive Entertainment veröffentlichten heute drei neue Erweiterungspakete für LEGO® Dimensions™, die Hybridplattform für LEGO Spielzeug und Videospiele. Das The Goonies™ Level-Paket, das Harry Potter™ Spaß-Paket und das LEGO® City Spaß-Paket werden die Auswahl der weltweit populärsten Unterhaltungsmarken, die im Spiel verfügbar sind, weiter vergrößern.
Die Spieler können so ihr Erlebnis durch das Mischen und Kombinieren ihrer verschiedenen Lieblingscharaktere und Universen bei voller Kompatibilität weiter individualisieren. Die in den Erweiterungspaketen enthaltenen LEGO Minifiguren verfügen über besondere goldene LEGO Tags, die eine kostenlose Abenteuerwelt der entsprechenden Unterhaltungsmarke sowie eine Battle Arena freischalten. Jede Battle Arena hat vier verschiedene Spielmodi und verfügt über ihre eigenen Fallen, besondere Kräfte und interaktive Umgebungen, die jede Battle Arena einzigartig machen.
Das Level-Paket The Goonies enthält ein komplettes Level mit The Goonies-Spielinhalten, bei denen Spieler die Handlung des Kultfilms aus den 80er-Jahren durchspielen können. Unter anderem können sie Sloth und Chunk dabei helfen, aus dem Versteck der Fratellis zu entkommen und sich dem Rest der Goonies anzuschließen, um mit ihnen nach One Eyed Willys Schatz zu suchen.
Spieler können Sloths Superstärke nutzen, um Wände zu durchschlagen oder als Chunk spielen und seinen berüchtigten Truffle Shuffle einsetzen. Das umbaubare One-Eyed Willys Pirate Ship segelt auf Wasser und kann in die Fanged Fortune und die Inferno Cannon umgebaut werden, während die Skeleton Organ die Fähigkeit Sonar Smash mitbringt und in die Skeleton Jukebox und den Skele-Turkey umgebaut werden kann, um weitere Spieloptionen zu eröffnen.
Sloth verleiht Zugang zu der neuen The Goonies Battle Arena und der Abenteuerwelt, in der Spieler Mikeys Haus, die Inferno Cove und die Goon Docks unsicher machen können. Wurde das Level abgeschlossen, können Spieler das Spiel erneut spielen und dabei andere Levels mit einem der sieben weiteren Goonies-Charaktere durchspielen, um auf ihrer Reise durch das LEGO Multiversum weitere Rätsel zu lösen und neue Sammlerstücke zu finden.

Die Spieler können ihre Zauberwelt-Abenteuer in LEGO Dimensions mit dem Harry Potter Spaß-Paket fortsetzen, das eine Hermine Granger LEGO Minifigur enthält. Sie kann Zaubersprüche wie Wingardium Leviosa nutzen, um Objekte schweben zu lassen, und Lumos, um dunkle Orte zu erleuchten. Und mit ihr können die Spieler die Harry Potter Battle Arena für Wettbewerbsspiele freischalten und in der Abenteuerwelt neue Orte in Hogwarts, Hogsmeade und der Winkelgasse erkunden. Der 3-in-1 Hippogriff Buckbeak kann zum Reiten genutzt werden und mit seinem Stampfangriff kann man silberne LEGO Steine zerstören, um ihn danach zu Giant Owl und Fierce Falcon umzubauen und deren zusätzliche Fähigkeiten im Spiel zu nutzen.
Spieler können mit dem LEGO City Spaß-Paket und der darin enthaltenen Chase McCain LEGO Minifigur im LEGO Dimensions Multiversum Verbrechen bekämpfen. Chase kann zum Bergarbeiter werden, um silberne LEGO Steine abzubauen, oder zum Feuerwehrmann, um mit seinem Water Beam Feuer zu löschen. Die Spieler können seinen LEGO City Detective Scanner einsetzen, um Bösewichte zu verfolgen und sein Aussehen ändern, um weitere Fähigkeiten freizuschalten. In der LEGO City Abenteuerwelt gibt es neue Gebiete wie die Mondbasis Blackwell und das LEGO City Polizeirevier, die entdeckt werden wollen. Spieler können auch mit bis zu drei Freunden in der LEGO City Battle Arena gegeneinander antreten. Außerdem können sie Chase´ Police Helicopter bauen und damit Pfeile abschießen, um ihn dann in ein Police Hovercraft oder ein Police Plane umzubauen, die zusätzliche Fähigkeiten im Spiel verfügbar machen.