Ab Montag den 13. November gibt es bei GameStop wieder ein PS4 Pro Trade-in, in dem Ihr eure PS4 mit original Zubehör sowie 3 Spiele gegen eine bandneue PS4 Pro für zzgl. 99,99€ Aufpreis eintauschen könnt. So könnt Ihr am 13.11 eine PS4 Pro reservieren und frühestens am 20.11.2017, spätestens jedoch am 25.11.2017 im GameStop Store eure zuvor reservierte PS4 Pro in Empfang nehmen.
Wichtig ist, pro GameStop Store werden nur 100 Reservierungen angenommen, danach habt Ihr leider Pech gehabt. Es ist also damit zurechnen das es wie beim letzten mal direkt vor Ladenöffnung am Montag eine größere Schlange wartender Gamer geben wird, die eine PS4 Pro reservieren möchten. Siehe News vom 26.April 2017: https://www.hqgaming.de/2017/04/26/gamestop-ps4-umtauschaktion-schon-30-minuten-nach-ladenoeffnung-vergriffen/
Deshalb solltet Ihr euch natürlich keine Zeit lassen und das Angebot direkt bei Ladenöffnung nutzen, letztes mal war das ganze schon sehr schnell vorbei und ich war auch sehr früh vor Ort! Also beeilt euch!
Wichtig: Falls Ihr eure gebrauchte PS4 erst bei Abholung der PS4 Pro abgeben möchtet, so ist dies auch möglich. Jedoch muss die Anzahlung in Höhe von 99,99 € bereits bei Reservierung getätigt werden.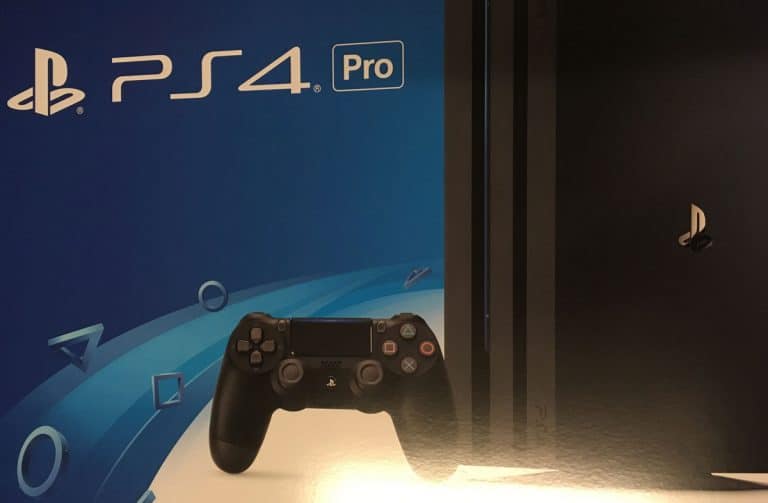 Folgenden Bedingungen gibt es beim Trade-in Programm von GameStop zu beachten:
So muss folgendes bei eurer PS4 enthalten sein:
Der Original-Controller von Sony
Ein HDMI-Kabel
Stromkabel
USB-Ladekabel für den Controller
Folgende Spiele sind außerdem von der Trade-In Aktion ausgeschlossen:
Battleborn
Battlefied Hardline
Bound by Flame
Destiny
Deus Ex Mankind Divided
DinoDinis Kick Off Revival
Dragon Age Inquisition
DragonBall Xenoverse
Elder Scrolls Morrowind
Elder Scrolls Online
Evolve
Fifa 14
Fifa 15
Fifa 16
Fifa 17
Final Fantasy XIV
Fortnite
Homefront The Revolution
Infamous First Light
Just Dance 2014
Just Sing
Killzone Shadow Fall
Lords of the Fallen
Lumo
Madden NFL 15
Madden NFL 16
Madden NFL 25
MGS 5 Ground Zeroes
Mighty No 9
Motorcycle Club
NBA 2K14
NBA 2K15
NBA 2K16
NBA Live 14
NBA Live 15
NBA Live 16
NHL 15
NHL 16
No Mans Sky
PES 2015
PES 2016
Song of the Deep
Tearaway Unfolded
That's You
The Division
The Order 1886
Thief
Watch Dogs
WWE 2K15
WWE 2K16
Zombie Vikings Ragnarök
Welche drei Spiele könnt Ihr bei der Trade-In Aktion abgeben?
Es können alle PS4-Spiele abgegeben werden, welche folgenden Ankaufsbedingungen entsprechen. Einfach gesagt umfasst das folgende Kriterien:
Drei unterschiedliche Spiele
Spiele mit USK- Alterskennzeichnung
Spiele nur mit Hülle (Handbuch nicht erforderlich)
Keine gröberen Kratzer auf der Disc (muss lesbar sein)
Keine Import-Spiele
Keine Spiele mit der Aufschrift Promo Copy
Keine älteren Titel oder Spiele, die wir für die Aktion vom Ankauf ausgeschlossen haben (siehe nächste Frage)
In welchem Zustand muss Eure Konsole sein?
Die Konsole muss 100% funktionstüchtig sein (dies wird von GameStop Mitarbeitern vor Ort auch geprüft). Des Weiteren sollten die Konsole und der Controller nicht mehr als normale Gebrauchsspuren aufweisen, das umfasst z.B. kleinere Kratzer auf der Klavierlack-Optik. Gröbere Verschmutzungen oder lose Analog-Sticks werden abgelehnt oder ggf. gegen eine Aufbereitungsgebühr angenommen. Hardware-Defekte werden grundsätzlich abgelehnt.
Quelle: GameStop