CCP Games hat kürzlich bekannt gegeben, dass Gunjack 2: End of Shift, der Nachfolger des vielfach ausgezeichneten und bestverkauften Gunjack für Gear VR im Oculus Store veröffentlicht wurde – zum empfohlenen, vergünstigten Verkaufspreis von 8,99 US-Dollar. Gunjack 2war ursprünglich exklusiv für Daydream erschienen. Der empfohlene Verkaufspreis auf Google Play wurde ebenfalls permanent von 12,99 US-Dollar auf 8,99 US-Dollar gesenkt.
Durch die Veröffentlichung von Gunjack 2: End of Shift für Gear VR ist es erstmals möglich, das ursprüngliche Gunjack sowie seinen Nachfolger auf ein- und derselben Plattform zu spielen. CCP veröffentlicht zudem ein ermäßigtes Bundle, das das ursprüngliche Gunjack sowie Gunjack 2: End of Shift für Gear VR enthält.
Auch wird der empfohlene Verkaufspreis des ersten Gunjack auf allen Plattformen permanent von 9,99 US-Dollar auf 4,99 US-Dollar gesenkt – für Gear VR und Oculus Rift im Oculus Store, für HTC Vive und Oculus Rift auf Steam und für PlayStation VR im PlayStation Store.
"Gunjack wurde bei der Veröffentlichung auf Gear VR im November 2015 für seine bahnbrechende Grafik gelobt, und mit Gunjack 2: End of Shift haben unsere Entwickler erneut Standards für Mobile VR-Games gesetzt", so Michael Lee, Senior Brand Manager für Gunjack 2: End of Shift. "Durch die breitere Verfügbarkeit, Bundles und gesenkte Preise wird die Gunjack-Serie über Weihnachten zahlreiche neue Freunde finden."
Gunjack und Gunjack 2: End of Shift sind rasante Weltraum-Shooter im SciFi-Universum von EVE Online®, die basierend auf der Unreal Engine 4 von Grund auf für Mobile VR entwickelt wurden. Als Bordschützen eines gewaltigen Bergbauschiffs steht den Spielern ein ansehnliches Arsenal zur Verfügung. Sie kämpfen gegen Banditen, die das Schiff und seine wertvolle Ladung vernichten wollen.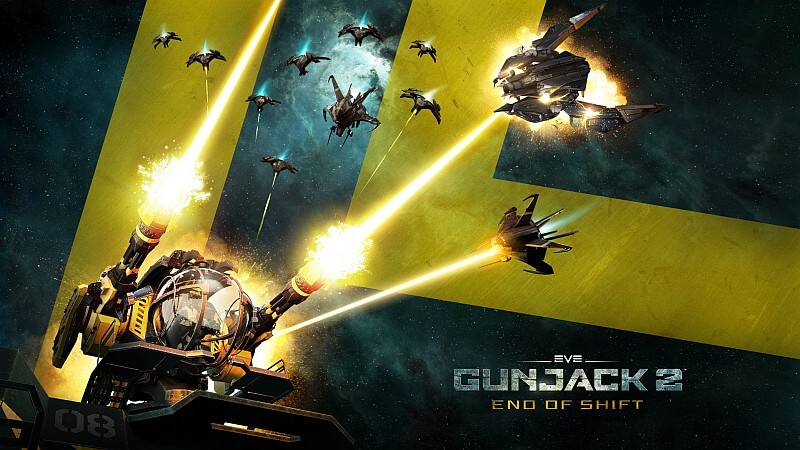 Gunjack 2: End of Shift verbindet eine intuitive Steuerung und packende, immersive Action zu einer Mobile VR-Erfahrung, die ihresgleichen sucht. Die Spieler nutzen den Gear VR Motion-Controller, um Schwärme von Gegnern abzuschießen, Spezialwaffen strategisch einzusetzen und Energieschilde zu aktivieren, mit deren Hilfe sie gefährliche Situationen überstehen. Der Titel hält täglich rechnerisch erzeugte, neue Missionen bereit und bietet so endlosen Wiederspielwert.
Alle Details zu Gunjack 2: End of Shift gibt es auf www.gunjack2.com.