Vollgepackt mit innovativen Features wie Super Retina Display, TrueDepth Kamerasystem, Face ID und A11 Bionic Chip mit neuraler Architektur
Apple hat kürzlich das iPhone X angekündigt, die Zukunft des Smartphones, in einem atemberaubenden Vollglas-Design mit wunderschönem 5,8″ Super Retina Display, A11 Bionic Chip, kabellosem Laden und einer verbesserten rückseitigen Kamera mit dualer optischer Bildstabilisierung. iPhone X bietet Kunden eine innovative und sichere neue Möglichkeit das Gerät mittels Face ID zu entsperren, sich zu authentifizieren und zu bezahlen, was durch die neue TrueDepth Kamera ermöglicht wird. iPhone X wird ab Freitag, 27. Oktober in mehr als 55 Ländern zum Vorbestellen und ab Freitag, 3. November in Geschäften erhältlich sein.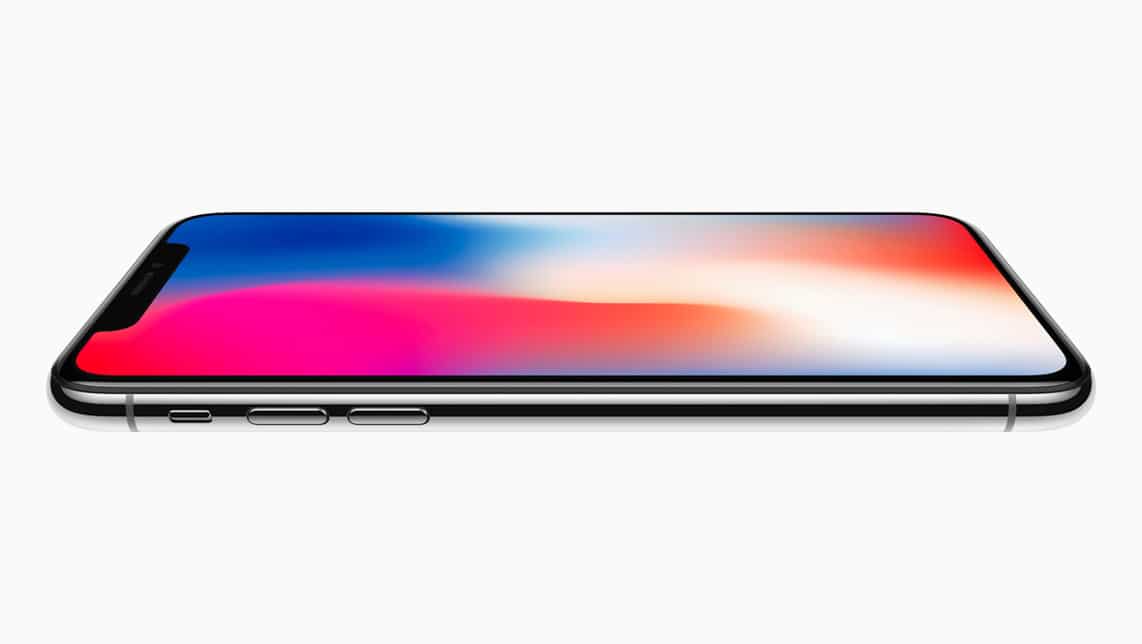 "Seit über einem Jahrzehnt war es unser Bestreben ein iPhone zu kreieren, das zur Gänze ein Display ist. iPhone X ist die Verwirklichung dieser Vision", sagt Jony Ive, Chief Design Officer von Apple. Mit Einführung des iPhone vor zehn Jahren haben wir das Mobiltelefon mit Multi-Touch revolutioniert. iPhone X läutet eine neue Ära für iPhone ein – eine, in der das Gerät im Erlebnis aufgeht."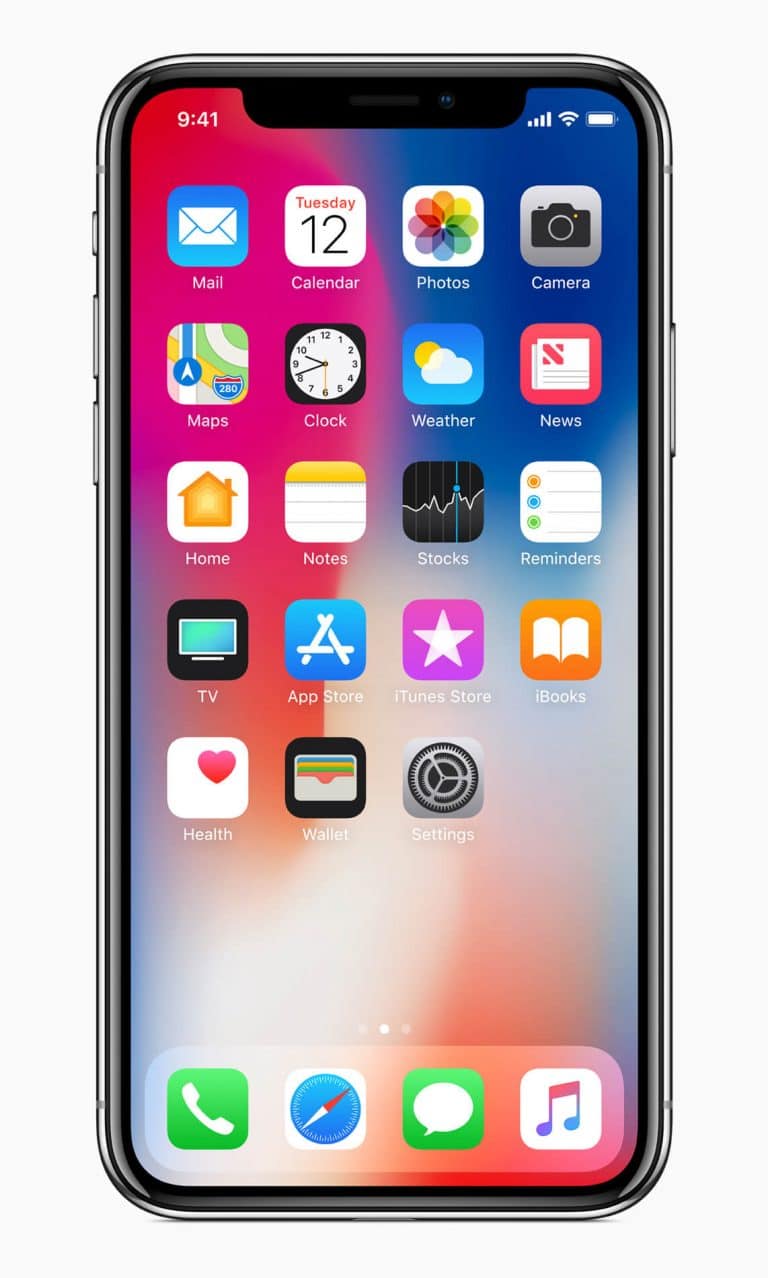 "iPhone X ist die Zukunft des Smartphones. Es ist vollgepackt mit unglaublichen neuen Technologien, darunter dem innovativen TrueDepth Kamerasystem, dem wunderschönen Super Retina Display und dem superschnellen A11 Bionic Chip mit neuraler Architektur",
sagt Philip Schiller, Senior Vice President of Worldwide Marketing von Apple. iPhone X ermöglicht packende neue Nutzererfahrungen – vom Entsperren des iPhone mit Face ID über das Spielen beeindruckender AR-Spiele bis hin zum Teilen von Animoji in Nachrichten – es ist der Beginn der nächsten zehn Jahre iPhone.
Wunderschönes Komplettbildschirm-Design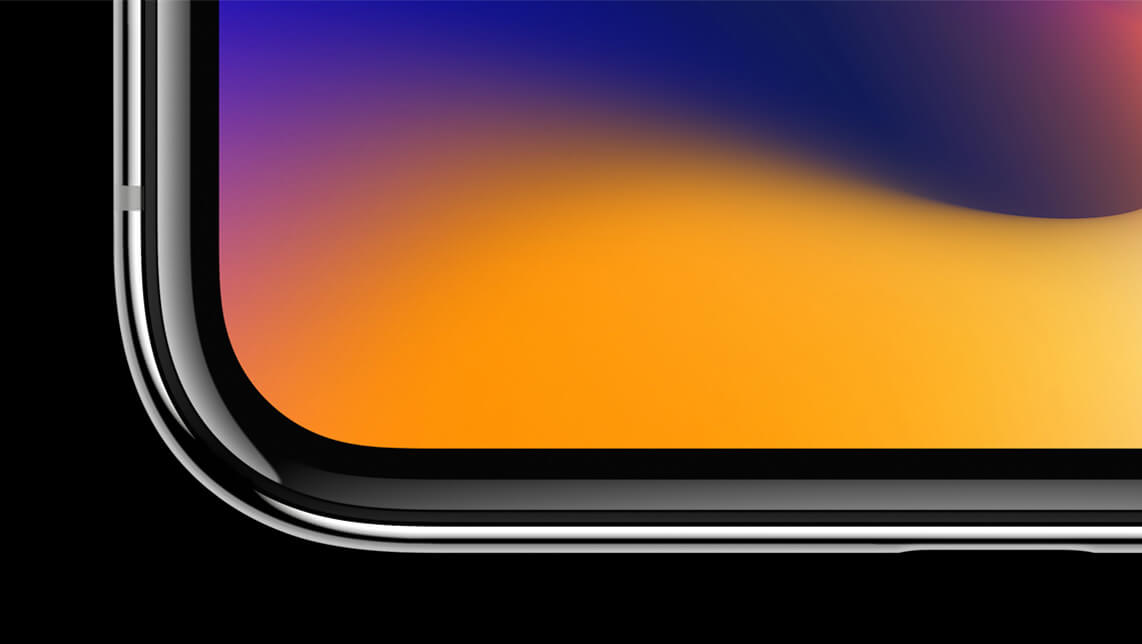 iPhone X bringt ein revolutionäres Design mit einem atemberaubenden Komplettbildschirm-Display, das präzise der Krümmung des Geräts folgt, klar bis hin zu den elegant abgerundeten Ecken. Die vollständig gläserne Vorder- und Rückseite des iPhone besteht aus dem widerstandsfähigsten Glas, das jemals in einem Smartphone Verwendung fand. iPhone X ist in Silber oder Space Grau erhältlich und wird von einem hochglanzpolierten Band aus Edelstahl in chirurgischer Qualität umhüllt und verstärkt. Ein siebenschichtiges Farbverfahren ermöglicht präzise Farbtöne sowie Opazität auf der Glasoberfläche und eine reflektierende optische Ebene verstärkt die intensiven Farben und macht das Design ebenso elegant wie langlebig, während Spritzwasser und Staubschutz erhalten bleiben.*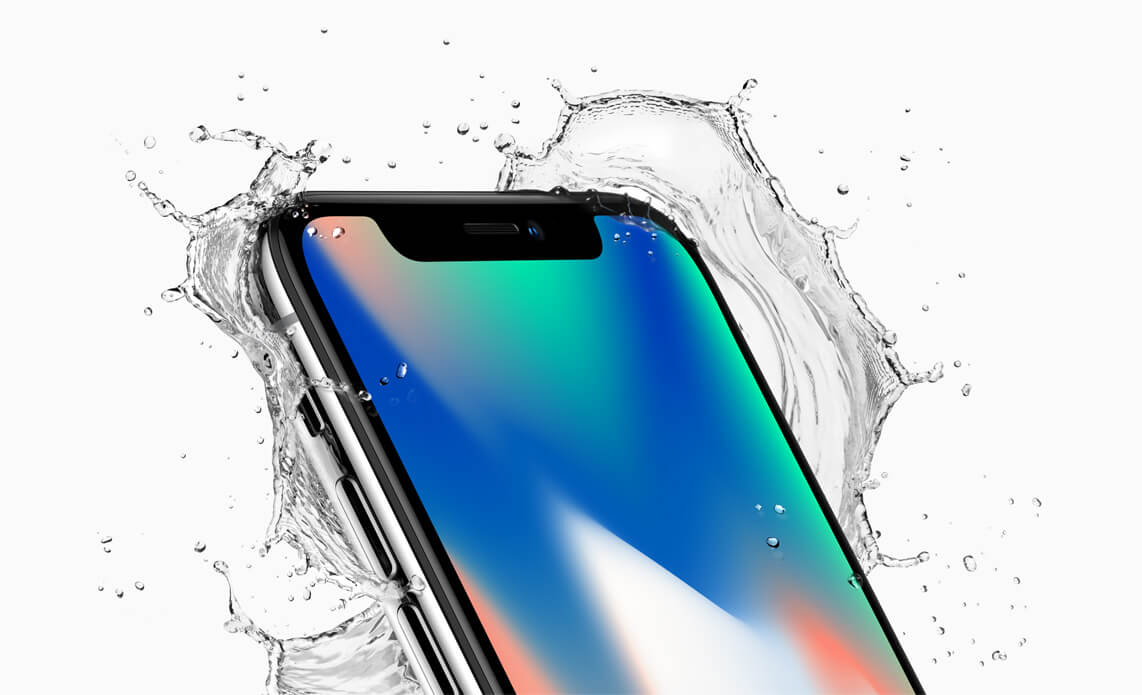 Bemerkenswertes Super Retina Display
Das wunderschöne 5,8″ Super Retina Display** ist das erste OLED-Panel, das den Anforderungen des iPhone gerecht wird, mit atemberaubenden Farben, echten Schwarzwerten, einem Kontrastverhältnis von einer Million zu eins und breiter Farbunterstützung mit der besten systemweiten Farbverwaltung in einem Smartphone. Das HDR-Display unterstützt Dolby Vision und HDR10, was im Zusammenspiel Foto- und Videoinhalte noch beeindruckender aussehen lässt. Das Hinzufügen von True Tone passt den Weißabgleich des Displays dynamisch an das Umgebungslicht an und sorgt so für ein natürlicheres, papierähnliches Betrachtungserlebnis.
iOS 11 wurde überarbeitet, um die Vorteile des Super Retina Display voll auszuschöpfen und ersetzt die Hometaste durch schnelle und flüssige Gesten, sodass Kunden auf iPhone X intuitiv und natürlich navigieren können. Einfach von unten nach oben streichen, um von überall aus zum Home-Bildschirm zu gelangen.
Face ID, ein leistungsfähiges und sicheres Authentifizierung-System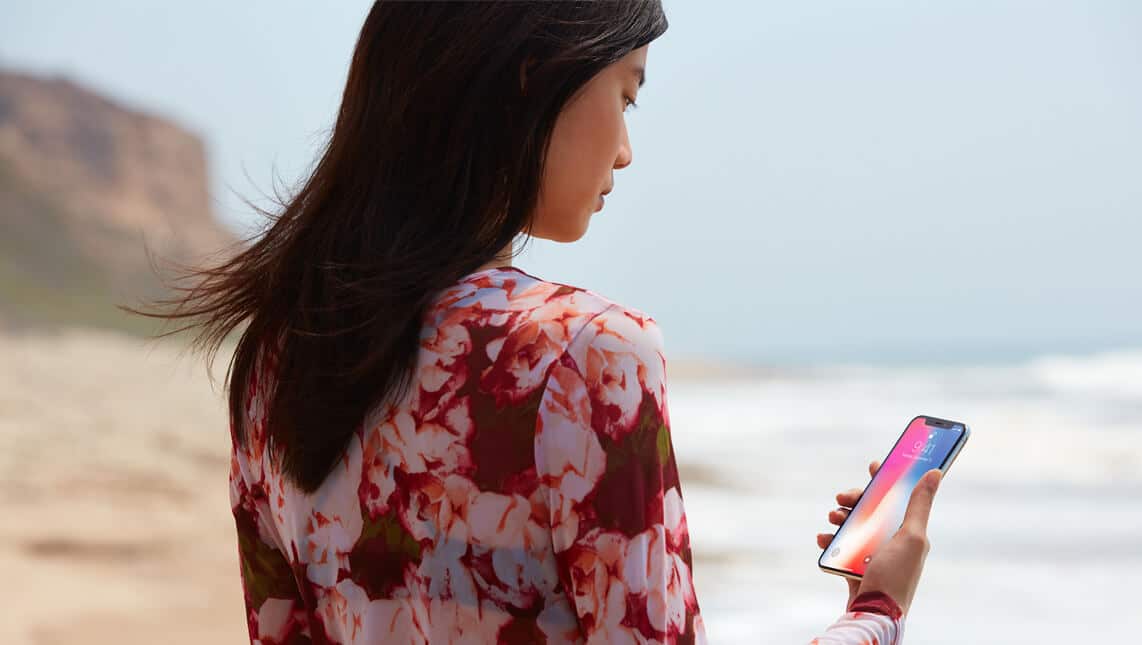 Face ID revolutioniert die Authentifizierung auf iPhone X mit einem hochmodernen TrueDepth Kamerasystem, das aus einem Punktprojektor, einer Infrarotkamera und einem Infrarotbeleuchter besteht und vom A11 Bionic angetrieben wird, um ein Gesicht präzise zu kartographieren und zu erkennen. Diese fortschrittlichen Technologien  der Tiefenmessung arbeiten zusammen, um das iPhone auf sichere Art und Weise zu entsperren, Apple Pay zu aktivieren, Zugriff auf sichere Anwendungen und viele weitere neue Funktionen zu erhalten.
Face ID projiziert mehr als 30.000 unsichtbare IR-Punkte. Das IR-Bild und das Punktmuster werden durch neuronale Netze geschoben, um ein mathematisches Modell des Gesichts des Anwenders zu erstellen und die Daten an die Secure Enclave zu senden, um eine Übereinstimmung zu bestätigen, während maschinelles Lernen körperliche Veränderungen des Erscheinungsbilds im Laufe der Zeit nachempfindet. Alle gespeicherten Gesichtsinformationen werden durch die Secure Enclave geschützt, um die Daten extrem sicher zu halten und die gesamte Verarbeitung erfolgt auf dem Gerät und nicht in der Cloud, um die Privatsphäre der Anwender zu wahren. Face ID entsperrt iPhone X nur dann, wenn es der Nutzer ansieht, während umfassend trainierte neuronale Netzwerke dahingehend entwickelt wurden, einer Manipulation durch Fotos oder Masken vorzubeugen.
Neu entwickelte vorderseitige und rückseitige Kameras mit Porträtlicht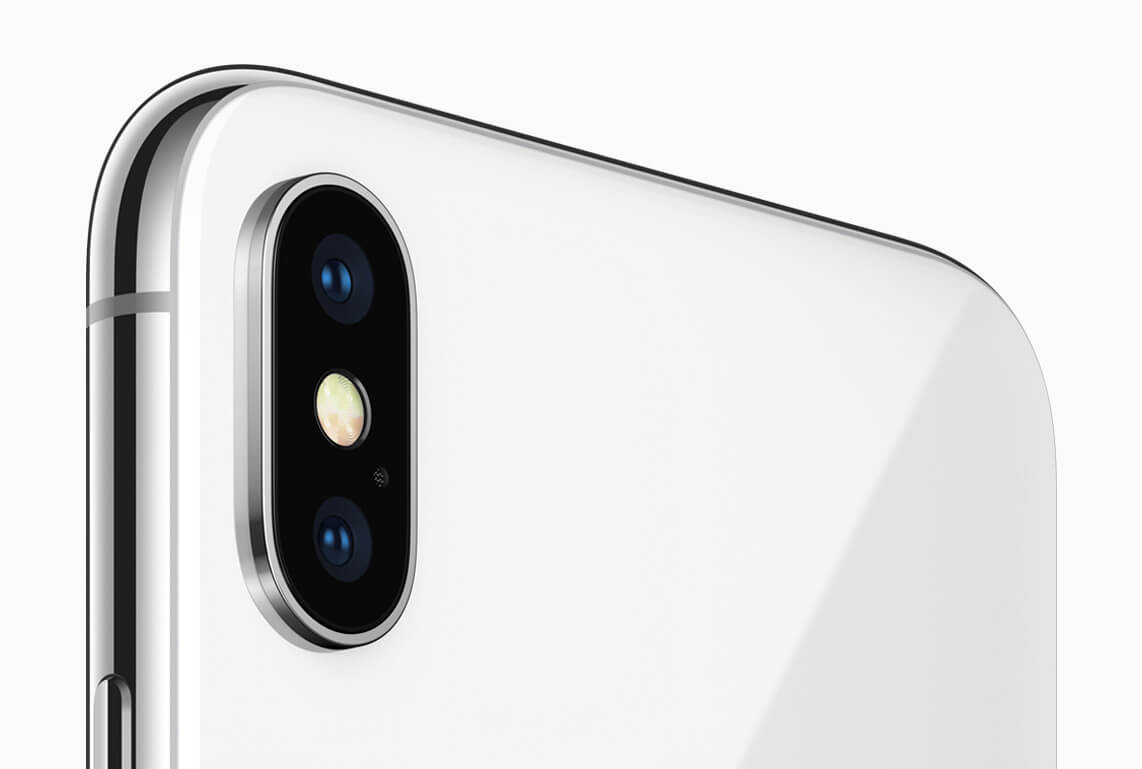 Die neue, vorderseitige 7 Megapixel TrueDepth Kamera, die Face ID ermöglicht, verfügt über eine breite Farberfassung, automatische Bildstabilisierung sowie präzise Belichtungssteuerung und bringt Porträtmodus auf die vorderseitige Kamera für atemberaubende Selfies mit Tiefenschärfe-Effekt.
iPhone X verfügt außerdem über ein neu entwickeltes rückseitiges 12 Megapixel Dual-Kamerasystem mit dualer optischer Bildstabilisierung. Die ƒ/1,8 Blende an der Kamera mit Weitwinkelobjektiv verbindet sich mit einer verbesserten ƒ/2,4 Blende an der Kamera mit Teleobjektiv für bessere Fotos und Videos. Ein neuer Farbfilter, tiefere Pixel und ein verbesserter, von Apple entwickelter Bildsignalprozessor ermöglichen fortschrittliche Pixelverarbeitung, breite Farberfassung, schnelleren Autofokus bei schlechten Lichtverhältnissen und bessere HDR-Fotos. Ein neuer 4fach-LED True Tone Blitz bringt eine doppelt so hohe Gleichmäßigkeit der Lichtverteilung und beinhaltet Slow Sync, was in einer gleichmäßigeren Ausleuchtung von Hintergründen und Vordergründen resultiert.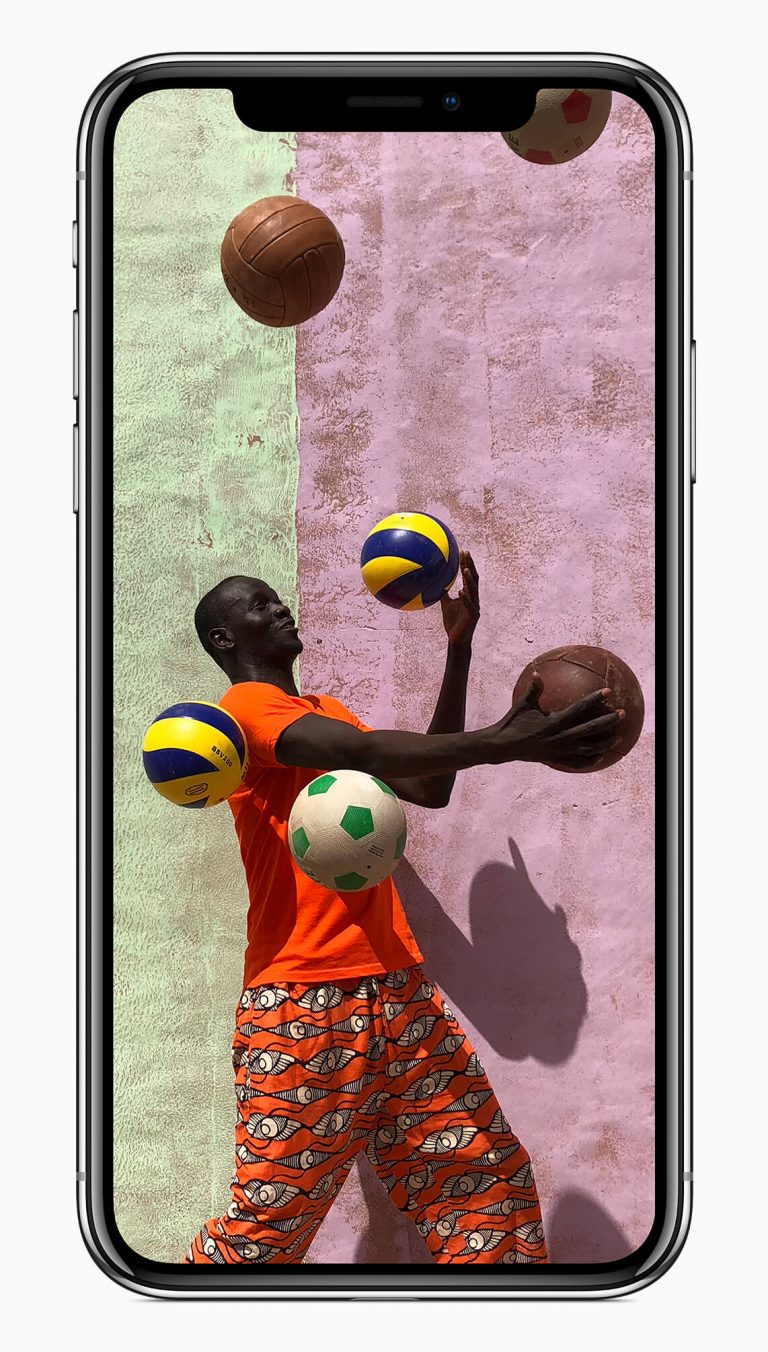 Die Kameras des iPhone X sind auf das ultimative AR-Erlebnis fein abgestimmt. Jede Kamera ist individuell kalibriert, mit neuen Gyro- und Beschleunigungssensoren für präzises Motion Tracking. A11 Bionic beherrscht World Tracking, Szenenerkennung und unglaubliche Grafik mit 60 fps, während der Bildsignalprozessor eine Echtzeitschätzung der Beleuchtung vornimmt. Mit ARKit können iOS-Entwickler die Vorteile der TrueDepth Kamera und der rückseitigen Kameras nutzen, um Spiele und Apps zu erschaffen, die fantastisch immersive und packende Erlebnisse bieten, die weit über den Bildschirm hinausreichen.
Die neue Kamera liefert außerdem die höchste Qualität der Videoaufzeichnung, die jemals in einem Smartphone erreicht wurde, mit einer besseren Videostabilisierung, 4K Videoaufnahmen mit bis zu 60 fps und Zeitlupenvideo in 1080p mit bis zu 240 fps. Der von Apple entwickelte Video-Encoder bietet Echtzeitbild- und Bewegungsanalyse für optimale Videoqualität.
Porträtmodus mit Porträtlicht sowohl bei der vorderseitigen als auch den rückseitigen Kameras bringt dramatische Studiobeleuchtungseffekte auf das iPhone und versetzt Kunden in die Lage beeindruckende Porträts mit einem leichten Effekt der Tiefenschärfe in fünf verschiedenen Beleuchtungsstilen aufzunehmen.***
Mit iOS 11 unterstützt iPhone X HEIF und HEVC für bis zu doppelt so starke Komprimierung und Speicherung von bis zu zweimal so vielen Fotos und Videos.
Animoji erweckt Emoji zum Leben
Die TrueDepth Kamera erweckt Emojis auf eine neue unterhaltsame Art zum Leben: mit Animojis. In Zusammenspiel mit A11 Bionic erfasst und analysiert die TrueDepth Kamera über 50 verschiedene Gesichtsmuskelbewegungen und animiert diese anschließend in einem Dutzend unterschiedlicher Animojis, darunter ein Panda, ein Einhorn und ein Roboter. Erhältlich als auf iPhone X vorinstallierte iMessage App, können Kunden Animoji-Nachrichten mit ihrer Stimme aufnehmen und versenden, die lächeln, die Stirn runzeln und vieles mehr.
A11 Bionic, der leistungsstärkste und intelligenteste Chip aller Zeiten in einem Smartphone, verfügt über ein 6-Kerne-CPU-Design mit zwei Kernen für hohe Performance, die um bis zu 25 Prozent schneller sind, und vier Kernen für hohe Effizienz, die um bis zu 70 Prozent schneller sind als der A10 Fusion und die beste Leistung und Energieeffizienz der Branche liefern. Ein neuer Performance Controller der zweiten Generation kann alle sechs Kerne gleichzeitig einspannen und liefert bis zu 70 Prozent mehr Leistung, sodass Kunden mehr Power zur Verfügung steht, während sie gleichzeitig zwei Stunden mehr Batterielaufzeit als bei iPhone 7 erhalten. A11 Bionic integriert außerdem einen von Apple entwickelten Grafikprozessor mit einem 3-Kerne-Design, der bis zu 30 Prozent schnellere Grafikleistung als die Vorgänger-Generation liefert. All diese Leistung ermöglicht unglaubliches neues maschinelles Lernen, AR Apps und packende 3D Spiele.
Die neue A11 neurale Architektur hat ein Zweikern-Design und führt bis zu 600 Milliarden Operationen pro Sekunde für Echtzeitverarbeitung aus. Die A11 Neurale Architektur wurde für spezielle Algorithmen des maschinellen Lernens entwickelt und ermöglicht Face ID, Animoji und andere Funktionen.
Entwickelt für eine kabellose Zukunft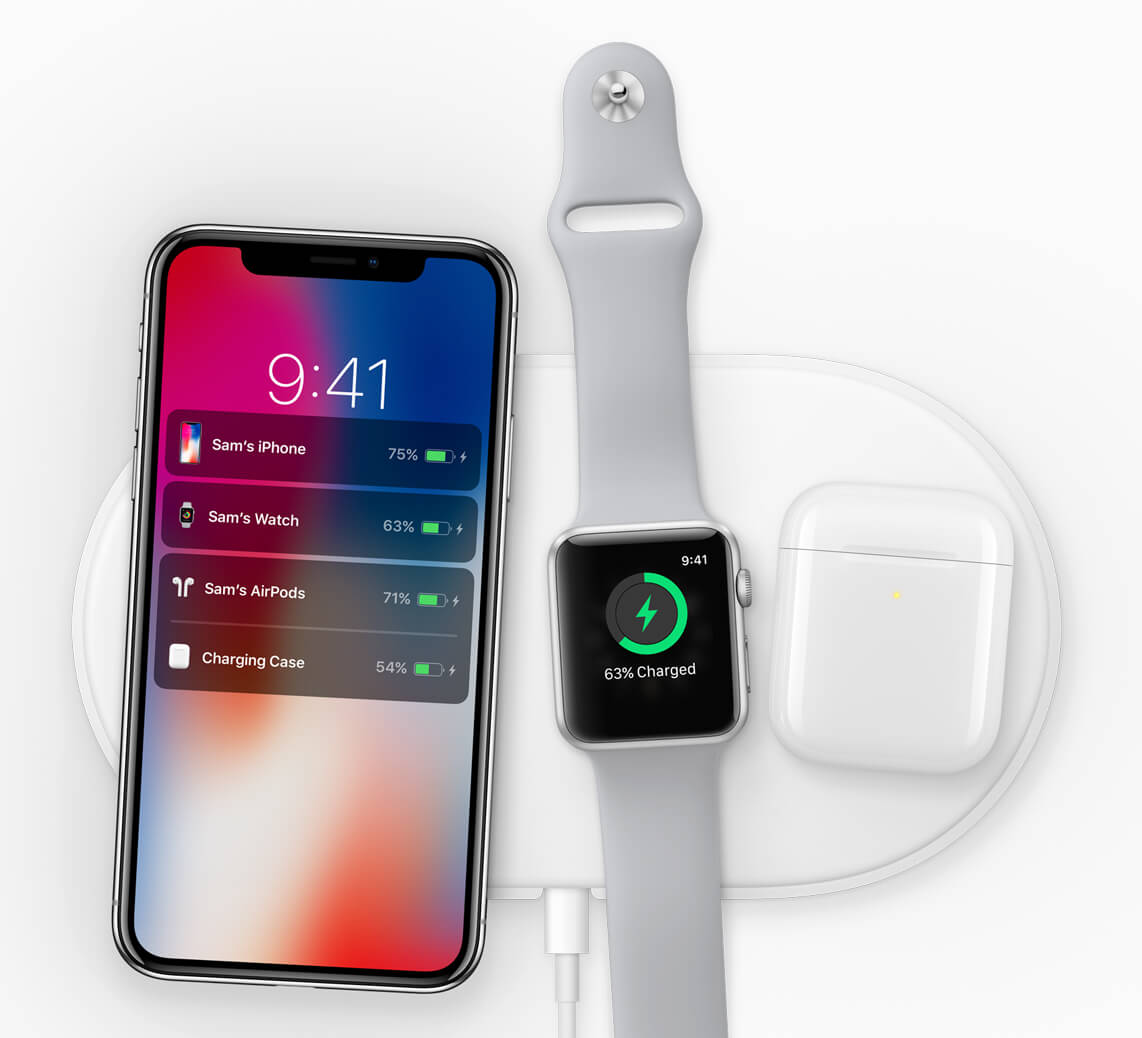 Das gläserne Design der Rückseite ermöglicht eine erstklassige kabellose Ladelösung. Kabelloses Laden funktioniert mit den etablierten Qi Zubehörprodukten, darunter zwei neuen kabellosen Ladematten von Belkin und mophie, erhältlich über apple.com/de und in den Apple Stores.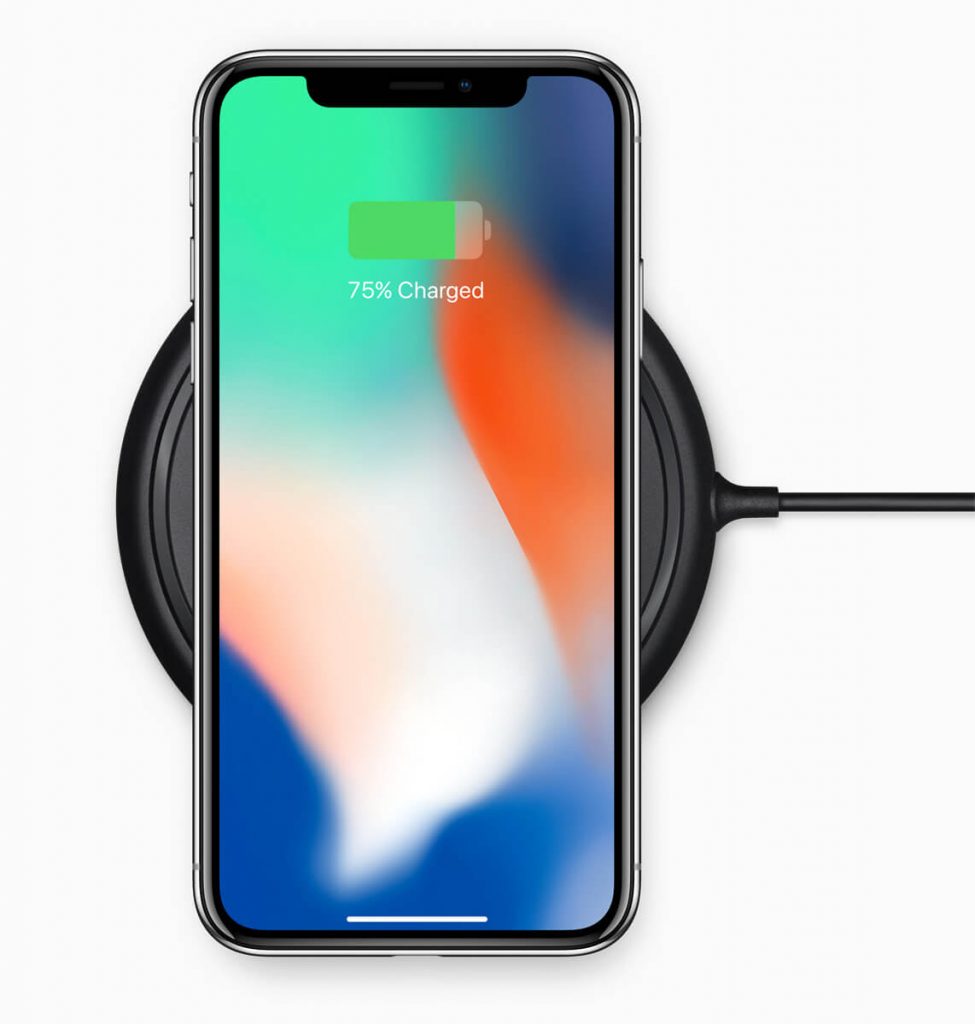 Apple gibt eine erste Vorschau auf AirPower, ein von Apple entwickeltes kabelloses Ladezubehör, das ab 2018 erhältlich sein wird und einen großzügigen aktiven Ladebereich bietet, mit dem Anwender von iPhone 8, iPhone 8 Plus oder iPhone X gleichzeitig bis zu drei Geräte aufladen können, darunter Apple Watch Series 3 und ein neues optionales kabelloses Ladecase für AirPods.
– iPhone X wird beginnend ab 1.149 Euro in Modellen mit 64GB und 256GB in Silber und Space Grau über apple.com/de und die Apple Stores verfügbar sein und ist auch bei autorisierten Apple Händlern und Mobilfunkanbietern erhältlich (Preise können variieren).
– Kunden können iPhone X ab Freitag, 27. Oktober mit Verfügbarkeit ab Freitag, 3. November in folgenden Ländern bestellen: Deutschland, Amerikanische Jungferninseln, Andorra, Australien, Bahrain, Belgien, Bulgarien, China, Dänemark, Estland, Finnland, Frankreich, Griechenland, Grönland, Großbritannien, Guernsey, Hongkong, Indien, Irland, Island, Isle of Man, Italien, Japan, Jersey, Kanada, Katar, Kroatien, Kuwait, Lettland, Liechtenstein, Litauen, Luxemburg, Malta, Mexiko, Monaco, Neuseeland, Niederlande, Norwegen, Österreich, Polen, Portugal, Puerto Rico, Rumänien, Russland, Saudi Arabien, Schweden, Schweiz, Singapur, Slowakei, Slowenien, Spanien, Taiwan, Tschechische Republik, Ungarn, USA, Vereinigte Arabische Emirate und Zypern.
– Von Apple entwickeltes Zubehör, darunter Cases aus Leder und Silikon in verschiedenen Farben, wird ab 39 Euro verfügbar sein, während eine neue iPhone X Lederfolio für 109 Euro erhältlich sein wird. Lightning Docks in farblich passenden Metallic Finishes werden zu 59 Euro verfügbar sein. Alle Preise inklusive MwSt..
– Jedem Kunden, der iPhone X bei Apple kauft, wird ein kostenloses Persönliches Setup im Store oder online angeboten, um dabei zu helfen das iPhone individuell anzupassen, indem E-Mail Accounts eingerichtet werden, neue Apps aus dem App Store gezeigt werden und vieles mehr.****
– Jeder, der mehr über iPhone X oder iOS 11 erfahren möchte, kann sich für einen kostenlosen Today at Apple Workshop über apple.com/de/today anmelden.
* iPhone X ist spritzwasser- und staubgeschützt und wurde unter kontrollierten Laborbedingungen mit einer IP67 Bewertung nach IEC Standard 60529 getestet. Spritzwasser- und Staubschutz ist kein dauerhafter Zustand und kann infolge von normalem Verschleiß vermindert werden. Bezugnehmend auf die Bedienungsanleitung zum Reinigen und die Anweisungen zum Trocknen soll nicht versucht werden ein feuchtes iPhone zu laden. Schäden aufgrund von Flüssigkeiten sind nicht von der Garantie abgedeckt. 
** Das Display des iPhone X hat einem wunderschön gebogenen Design folgende abgerundete Ecken innerhalb eines Standard-Rechtecks. Wenn als eine rechteckige Standardform gemessen, ist die Bildschirmdiagonale 5,85" (die tatsächlich sichtbare Fläche ist kleiner).
*** Porträtlicht startet als Beta-Version.
**** In den meisten Ländern
iPhone X wurde noch nicht gemäß den Vorschriften der Federal Communications Commission zugelassen. Dieses Gerät wird und darf nicht zum Kauf oder Leasing angeboten werden oder verkauft oder geleast werden, bis die Genehmigung vorliegt.
Apple hat persönliche Technologie mit der Einführung des Macintosh 1984 revolutioniert. Heute führt Apple die Welt der Innovation mit iPhone, iPad, dem Mac, Apple Watch und Apple TV an. Apples vier Softwareplattformen – iOS, macOS, watchOS und tvOS – bieten eine reibungslose Anwendererfahrung über alle Apple-Geräte hinweg und unterstützen die Menschen mit bahnbrechenden Services inklusive dem App Store, Apple Music, Apple Pay und iCloud. Die mehr als 100.000 Mitarbeiter von Apple widmen sich ganz der Entwicklung der besten Produkte der Welt und dem Ziel, die Welt besser zu hinterlassen, als wir sie vorgefunden haben.