Mit dem Xbox Game Pass erhaltet Ihr zukünftig Zugang zu allen neuen und exklusiven Veröffentlichungen der Microsoft Studios. Als erster Titel stehen euch Sea of Thieves zum Release am 20. März in Eurer Xbox Game Pass-Spielebibliothek zur Verfügung. Auch Titel wie Crackdown 3 und State of Decay 2 spielt Ihr pünktlich zum Release mit Eurer Xbox Game Pass-Mitgliedschaft.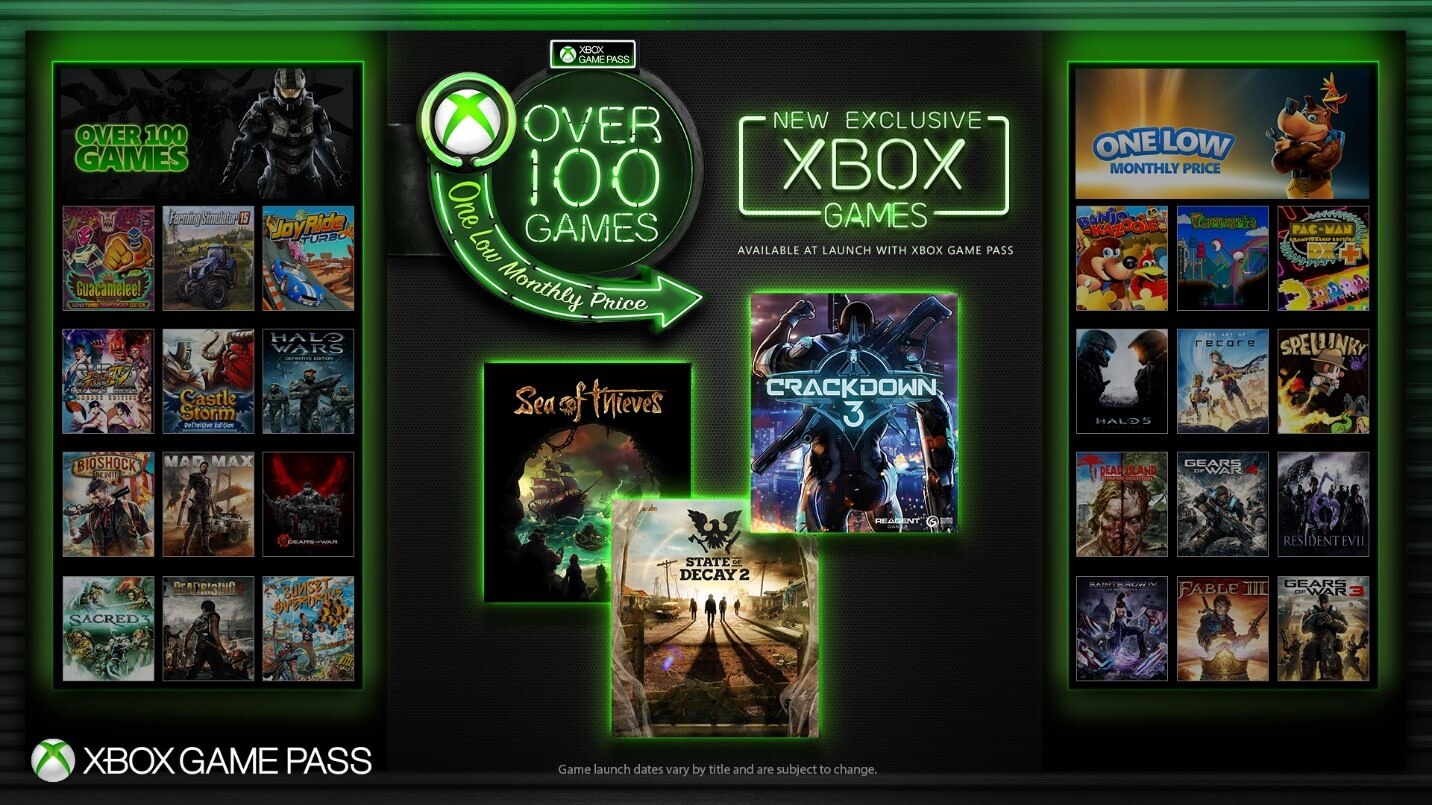 Xbox Game Pass: Das erweiterte Angebot
Neben den bisher angekündigten Titeln erhaltet Ihr alle zukünftigen Neuerscheinungen der Microsoft Studios mit Eurer Xbox Game Pass-Mitgliedschaft. Darunter fallen auch unangekündigte Fortsetzungen der exklusiven Spielereihen Halo, Forza und Gears of War, die Euch pünktlich zum Release zur Verfügung stehen.
Ebenfalls neu: Ab dem 20. März erwerbt Ihr eine sechsmonatige Mitgliedschaft für den Xbox Game Pass bei ausgewählten Retailern zu einem Preis von 59,99 Euro. Bisher war der Zugang zum Programm nur digital möglich.
Was ist der Xbox Game Pass
Mit dem Xbox Game Pass erhaltet Ihr Zugriff auf mehr als 100 Spiele aus dem Xbox One- und dem abwärtskompatiblen Xbox 360-Portfolio. Nach einer kostenlosen 14-tägigen Testphase kostet der Game Pass 9,99 Euro im Monat. Der Katalog des Xbox Game Pass wird monatlich mit neuen Titeln aktualisiert.